The MEGGLE Vegan product line, is our response to the needs of a modern market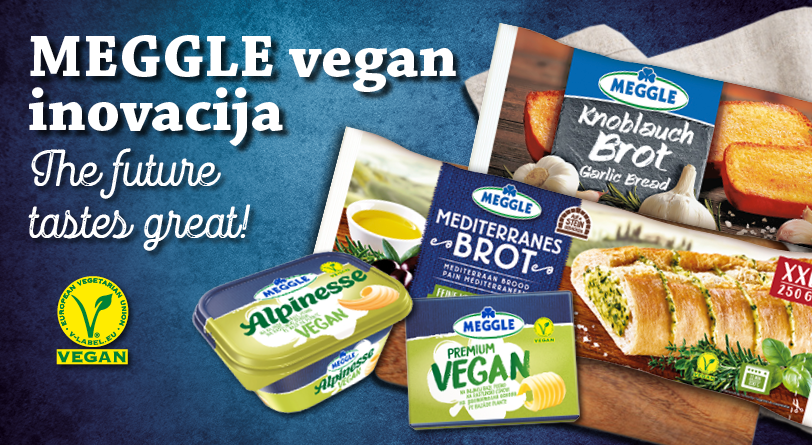 With the promise "The future tastes great", we introduce innovation to our production, and proudly present our new line of MEGGLE Vegan products. With this line we respond to the needs of a consumer that is increasingly market savvy and chooses products and foodstuffs of excellent taste and quality, at a fair price point. Modern consumers see products created through sustainable production, from raw materials of plant origin, without flavor enhancers or preservatives. With the MEGGLE Vegan line, we introduce the super popular Alpinesse spread in a new format, and MEGGLE Premium Vegan spread that retains almost 100% of the taste of the popular MEGGLE milk butter. In the vegan portfolio, for now we have also introduced two pre-baked breads with the taste of Mediterranean herbs and garlic. All products within the MEGGLE Vegan line retain the 100% MEGGLE taste expectation our consumers are used to but through a new product delivery – 100% plant-based and 100% guaranteed quality, as supported by the "V" label, known throughout Europe.
We have recognized the specific needs of some of our consumers and with our new MEGGLE Vegan product line, we have introduced innovation in our production processes, while respecting the integrity of the original recipe, thus offering this new pallet of products to the market, and to the South East Europe Region. MEGGLE Vegan products are of top quality and provide recognizable MEGGLE pleasure, and will satisfy those who choose lean foods, healthy fats, prefer a vegan, vegetarian and/or plant-based diet, or fast regularly.
This is supported by data from European studies, which say that the vegan market has grown by 49% by 2020 and reached a total turnover of 3.6 billion euros. Europe's vegan category is expected to reach €7.5 billion by 2025.
"The future tastes great"
The future tastes great with MEGGLE Vegan products.
Following the demands and rising awareness of customers who in recent years have increasingly decided to buy food produced utilizing sustainable production methods, without preservatives, which are not of animal origin, we have intended part of our product line for them while still focusing on what we are known for – irresistible taste, tradition and quality.
As its name suggests, the MEGGLE Vegan product line is truly vegan. It has the "V" trademark on the packaging from the "European Vegetarian Union", which guarantees that products with this mark contain less than 0.1% of non-vegan and non-vegetarian ingredients throughout all stages of production, processing and distribution, which is a valid recognition globally. MEGGLE Vegan products are lean, healthy and tasty just like the products from our standard dairy product line.
For now, four products from the new line are available on the Croatian and Slovenian markets, namely the popular spread MEGGLE Vegan Alpinesse, which retains 100% of the taste of the famous Alpinesse brand, as well as its perfect spreadability even when consumed directly from the refrigerator.
In addition to Vegan Alpinesse, on the shelves of stores throughout Croatia and Slovenia, as well as the surrounding regions of Southeast and Western Europe, MEGGLE Premium Vegan spread is also available, which has retained the taste and smell of the classic dairy MEGGLE butter. It is made entirely of carefully selected ingredients – rapeseed oil, coconut oil and shea oil. It does not contain preservatives, flavor enhancers or palm oil, similar to its cousin Vegan Alpinesse, and is fantastic for spreading on bread or pastries, as well as for baking. Use it as your would our regular dairy butter and spread options.
The new line also includes MEGGLE Vegan prebaked breads in two flavors – Mediterranean herbs and garlic. Both breads are also plant-based and have a "V" label – European Vegetarian Union label, and a third flavor will soon join them. Save them in the freezer for longer storage, and bake them directly from the freezer to the over in 10 minutes. Perfect for unexpected guests or for a quick vegan snack.
Be sure to look for inspiration on what to prepare at www.gourmeggle.hr where we have included a few beginner vegan recipes to boost your creativity. Enjoy great vegan meals on your own or with friends, and , of course, with your whole family!