Sweet dishes
Kaiserschmarn – imperial crumb cake with caramelized nectarines
Ingredients:
» 8 eggs
» 50 g of raisins
» 30 ml of rum
» 500 ml MEGGLE milk
» 30 g of sugar
» 1 bag of vanilla sugar
» 300 g of flour
» 50 g MEGGLE Alpinesse classic butter
» 1 tablespoon almond leaves
» 1 pinch of salt
» cinnamon powdered sugar for sprinkling
For caramelized nectarines:
» 30 g MEGGLE Alpinesse classic butter
» 30 g of sugar
» 2 nectarines
» 50 ml of water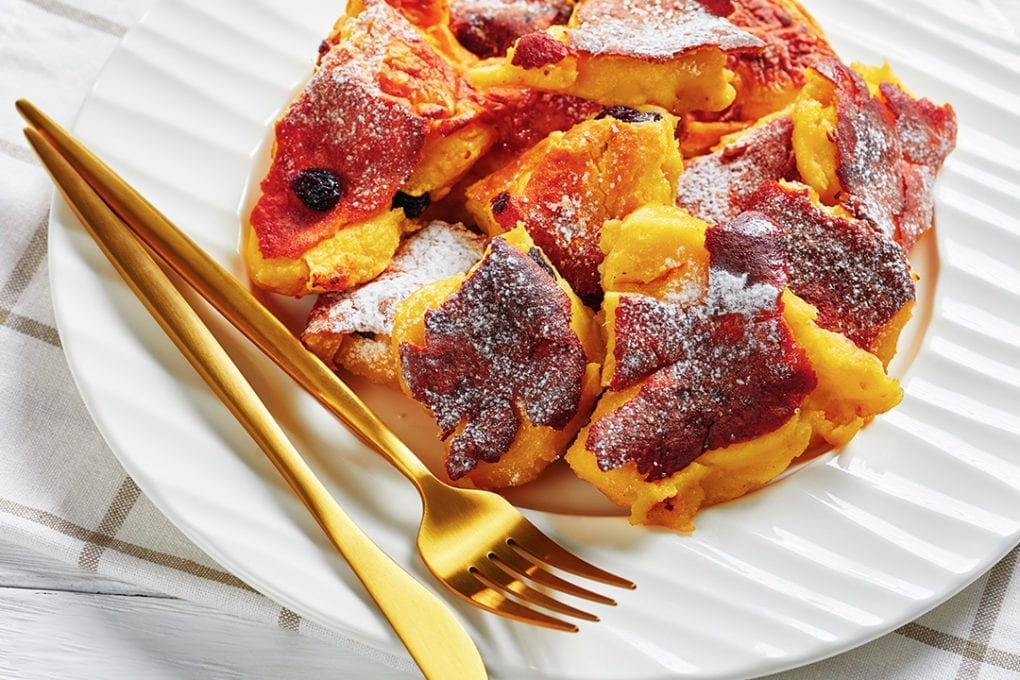 Preparation:
Put the raisins in a bowl, pour over the rum and leave to soak for half an hour. In two separate bowls, separate the egg yolks from the egg whites. Beat the egg whites until stiff and pour the milk into a bowl with the egg yolks, add sugar, vanilla sugar, a pinch of salt and mix well with a whisk or hand mixer. Then, with constant stirring, gradually add the flour until you get a uniform mixture. Then we gently mix the egg whites into the mixture. Pour the crushed butter mixture into the pan on the melted butter, add the drained raisins and let the mixture bake on the underside. Then, using two cookers, turn the mixture over and wait for it to start getting colour on the other side as well. Then sprinkle the crumbs with powdered sugar, almond leaves and with the help of two wooden cookers, tear the crumbs and mix a little more if necessary. Serve the finished crumbs on plates and sprinkle generously with cinnamon sugar. Along with the imperial crumbs, plum jam, various thick compotes, etc. are excellent.
Print recipe
MEGGLE products used in recipe