Sweet dishes
Homemade fresh cheese pie
2h 15 min
Ingredients:
Dough:
» 500 g of sharp flour
» ½ teaspoons of baking powder
» 250 g MEGGLE butter
» 150 g of sugar
» 2 egg yolks
» 90 g MEGGLE sour cream
» 1 tablespoon grated lemon zest
» 1 pinch of salt
Stuffing:
» 2 eggs (egg yolks separated from egg whites)
» 200 g of sugar
» 500 g MEGGLE fresh cheese
» 180 g MEGGLE sour cream
» 1 teaspoon grated lemon zest
» 12 g of vanilla sugar
» 80 g of raisins
» powdered sugar for sprinkling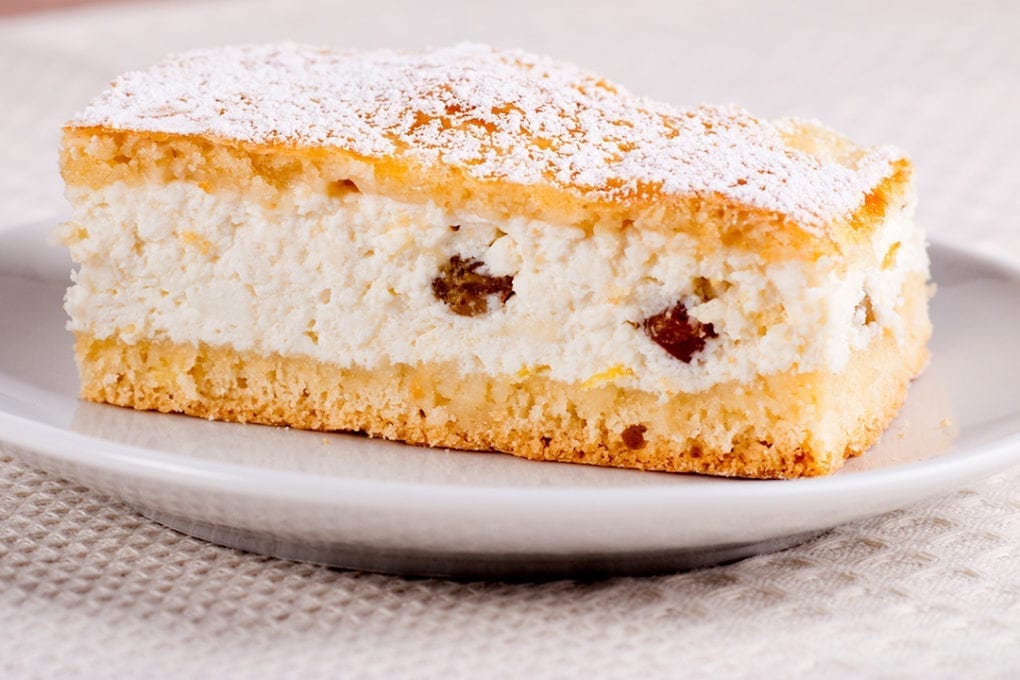 Preparation:
Dough:
In a bowl sift the flour, add the baking powder, salt, sugar and stir. We rub pieces of butter into the flour with our fingers until the mixture gets the appearance of breadcrumbs. In a separate bowl, beat the egg, add the sour cream and grated lemon zest, mix the ingredients, and mix them with the flour and butter mixture. From the ingredients, gently make a crispy dough with your hands and form a rough ball (not too hard, because the harder the dough is kneaded, the harder the pie will be). The dough is then wrapped in transparent kitchen foil and left in the refrigerator to stand for 30 minutes.
Stuffing:
Put the drained fresh cheese in a bowl, add sour cream, sugar, grated lemon zest, vanilla sugar, raisins, two egg yolks and mix the ingredients. Put two egg whites in a separate bowl, beat the solid snow and lightly mix it with the cream cheese mixture.
Stacking cakes:
Divide the rested dough into 2 equal parts and roll each out to the size of a refractory dish (35x22x6). Place one rolled dough on the bottom of a fireproof dish and stab it in several places with a fork to bake better. Arrange the prepared fresh cheese filling over it and cover it with the other half of the dough, which we also prick with a fork so that the steam generated during baking evaporates more easily.
Baking pies:
Place the cake prepared in this way in the oven, preheated to 180 ° C, on the lowest rack, for about 1 hour and 15 minutes. Leave the finished cake to cool.
Cake serving:
Before serving, cut the homemade fresh cheese pie into cubes and sprinkle with powdered sugar.
Print recipe
MEGGLE products used in recipe