Salty dishes
Chicken risotto with zucchini
Ingredients:
» 400 g of chicken fillet
» 1 red onion
» a little olive oil
» 2 cloves garlic
» 2 zucchini, larger
» salt
» pepper
» 50 ml of white wine
» 1 tablespoon MEGGLE Premium butter
» 70 g per person of rice
» 1/2 vegetable or chicken cubes
» 100 ml MEGGLE cooking cream 20% mm (or more if desired)
» 1/2 sachets of MEGGLE grated cheese
» a little parsley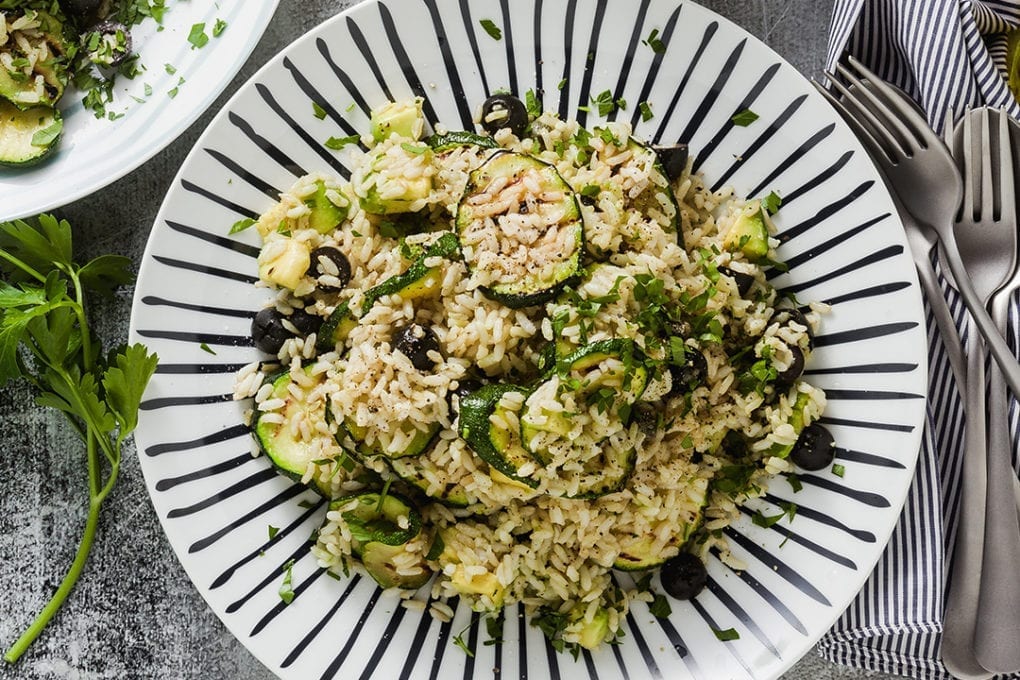 Preparation:
Finely chop the red onion and garlic and cut the chicken into cubes. Wash the zucchini and grate on a coarse grater. Sauté and fry the red onion in olive oil. Then add the chicken to the fried onions and continue to bake over medium heat until the chicken turns white and dries. Season with salt and pepper and add the garlic. Add the grated zucchini and stir briefly. As soon as the zucchini "fall", cover with white wine and when the alcohol evaporates, pour warm water to cover the ingredients.
In another pan, fry the rice on a tablespoon of butter until glazed, then add to the meat, after the water has boiled in it. If desired, add half a vegetable or chicken cube and stir to melt the cube.
Add a little hot water so that there is always juice. Cook for 15 - 20 min. from the moment you add the rice, depending on the type of rice you use. The rice must remain al dente, but the dish juicy. Towards the end, stir in the grated parmesan, mix well, and add the cooking cream. The cream only needs to be boiled a little and then removed from the heat. If desired, sprinkle the dish with chopped parsley. Cover for a minute and then it is ready to serve. In delight!
Print recipe
MEGGLE products used in recipe