Perfect With Every Bite!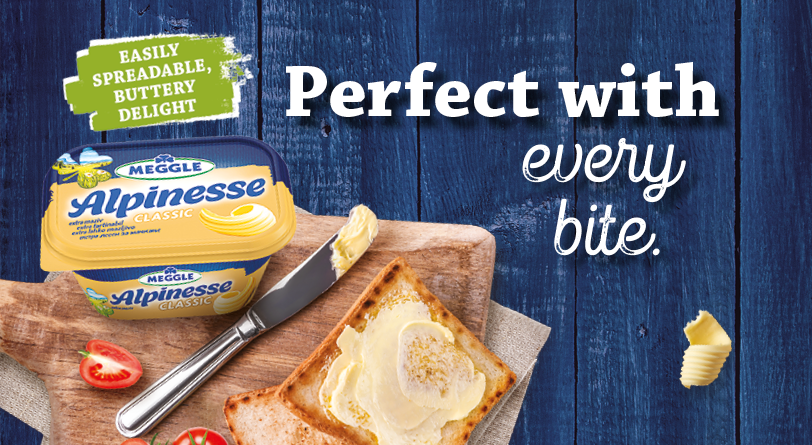 MEGGLE Alpinesse Classic and Salty flavors enrich every sandwich with their fine buttery taste and are a great choice for baking savory or sweet dishes.
Despite the fact that the world is changing so fast, we dare say that our needs for socializing, sharing, and enjoying life are not changing. We often spend time together with loved ones at the table enjoying a delicious meal or in front of the TV with a comfy snack.
We start the morning with breakfast and a few cups of coffee, and conversation, we exchange daily anecdotes at lunch, and we reconnect again at dinner time.
MEGGLE Alpinesse spreads – made from the best MEGGLE butter and a small addition of the highest quality rapeseed oil, for ease of spreading – is nothing less than perfect for all of these occasions. It offer full buttery flavor and easy spreadability at every opportunity – even directly out of the fridge.
Alpinesse is a great choice when preparing various dishes, baking, preparing snacks, sandwiches and is always the right choice for every chef (especially our Gourmeggle chefs), as it is convenient, easy to use and its delicious buttery taste makes all dishes irresistible.
Alpinesse spreads are available in 250 g packages, which require 4 liters of MEGGLE milk to produce, and are available in a lovely new design and packaging. The packaging is extremely convenient and preserves the product inside and ensures its quality and freshness to the end.
MEGGLE Alpinesse spreads have an irresistible texture and taste, and are a great choice when preparing dishes for which we usually use butter. You can find inspiration and new ideas to up your culinary skills on the MEGGLE brand website www.gourmeggle.hr . Join the community of culinary enthusiasts and become a true »Chef in your own kitchen«!
Alpinesse spreads, are available in all major retail chains in Croatia and Slovenia, and  more about the product itself can be found at www.meggle.hr/en/ .